Is Collaboration Worth It?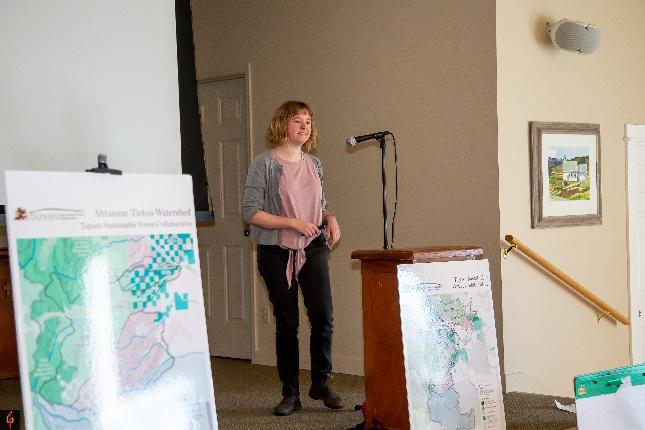 The Winter Quarter 2020 Tapash Sustainable Forest Collaborative Stakeholder meeting was kicked off by Keynote Speaker Jenna Knobloch, Sustainable Northwest, with an engaging discussion of the benefits, challenges and success stories of collaboration in order to address the burning question –is it all worth it? Despite the trade-offs, differing interests and time/ capacity asks of collaboration, Jenna highlighted the healthy democracy, diversity of perspectives, and advancement of values on the landscape made possible through the collaborative process and building upon successes of recent projects within WA State.
---
Northern Watersheds Break Out Group
Accomplishments and progress on actions within the Tapash Fiscal Year 2020 Annual Operating Plan were evaluated by Northern Zone partners and stakeholders for each of the projects below: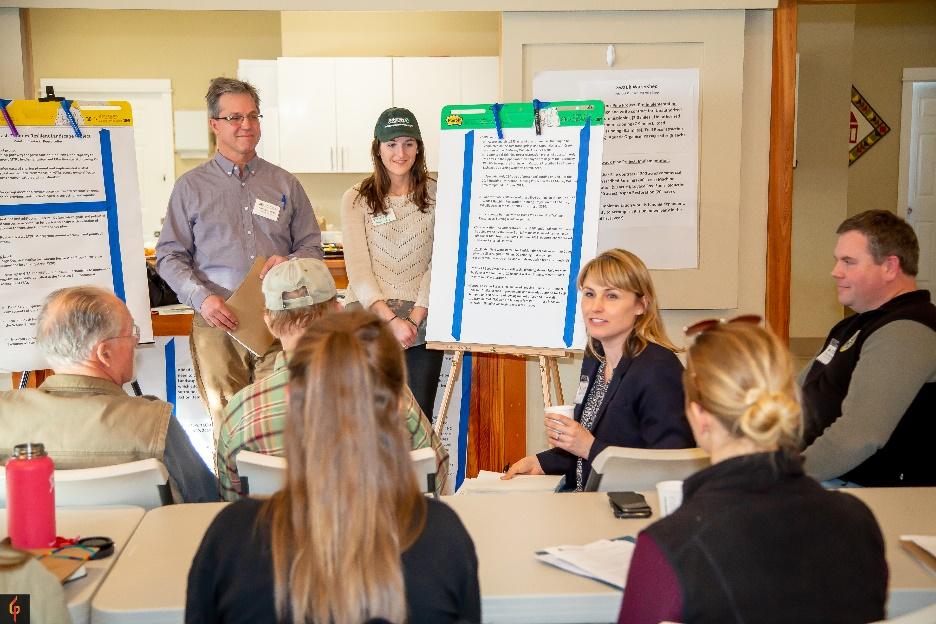 Manastash Taneum Resilient Landscape Restoration Project 
All tasks within Annual Operating Plan in-progress, on-track or completed. The group would like to leverage partner capacity, resources and knowledge in order to increase coordination with key partners and implementers with small group meetings; spatially track landowner projects within the landscape; further define goals, action plan elements, funding sources and revise workgroup annual workplan within MTRL Workgroup; continue development of workplan for landscape across ownerships, including expected Taneum NEPA tasks; investigate GNA and funding mechanisms to implement actions identified in the Taneum Environmental Assessment; continue incorporating burning with Cascadia Prescribed Fire Training Exchange as burning windows permit; investigate alternatives for TanMan timber sale, complete planned commercial thinning in Robinson Canyon, prescribed burning on the Unit 1 2017 Hutchins Restoration Project, Yakama Nation Wood Fiesta Project, and more! Overall the group felt things were going well, but increased opportunities for engagement and collaboration will help smooth bumps in the road such as expansion of aquatics work and capacity/funding options. 
Swauk Watershed
Swauk Pine Project is in-progress, with aquatic projects such as culvert replacement, unauthorized route decommissioning, and creating a loop for ATV users, but has hit a road block with the haul route and will be developing alternatives. The group discussed opportunities for Stewardship Authority and how to organize efforts for user-groups to help designate roads, such as community meetings and/or educational outreach with private landowners and users. The project would also benefit from help for private landowners to address regulatory constraints and help getting hydrologists and engineers to help with design. 
Cle Elum Watershed
Added as a priority project for Tapash in FY19 and still needing to determine a single lead point person, the action items included in the Annual Operating plan are all in various stage of in-progress, on-track or completed. The Kittitas Fire Adapted Communities Coalition helped in the development of a county-wide Small Forest Landowner Portal
Tool (Link) with fire landscape information and individualized recommendations. The group discussed how to increase use and get the word out to the community of the resource, including blog posts/social media, local events, locally-placed handouts, or even including the link on public utility bills. There was discussion of the Kittitas Fire Adapted Communities Coalition annual operating plan, planning workshops, upcoming meetings and methods to address any disconnect between small private landowners and Tapash, as well as processes and ideas for engagement to determine a path forward for aquatics work in the landscape. It was also emphasized that collaborative successes, such as the sale of Justify Sorts Timber Sale (and subsequent control over Tussock moth spread), should be celebrated and identify pathways to share successes! 
---
Southern Watersheds Break Out Group
Accomplishments and progress on actions within the Tapash Fiscal Year 2020 Annual Operating Plan were evaluated by Southern Zone partners and stakeholders for each of the projects below: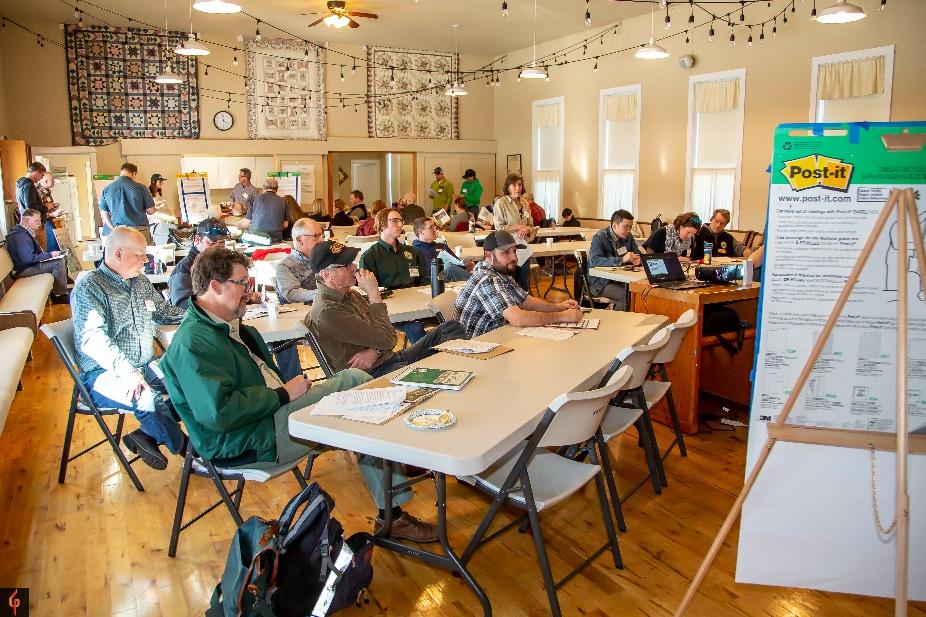 Ahtanum Tieton Watershed 
A project workplan was completed in FY19 for the Ahtanum Tieton Restoration Project, (Link) but the group identified a need for selecting a lead point person for the Watersheds. The Ahtanum Landscape Evaluation (LE) has already been completed by WA DNR and the Tieton draft LE will be available this spring, next steps will include soliciting feedback from stakeholders on the final LE. The group identified the need to further discuss elements of Aquatic Evaluation development with some potential project leads/contacts, such as Brandon Rogers (Yakama Nation Fisheries), and opportunities for increased capacity. The 1400 acres of pre-commercial thinning on DNR land is on schedule with contract bid, and the WDFW Windy Point Restoration project is in-progress with 255 acres of non-commercial completed, surveys in-progress, and an application for State Lands Restoration Grant. Yakama Nation discussed their longer term 5 year plans, shorter term fisheries plans and overall priorities for Ahtanum Tieton, included in the Annual Operating Plan. The group discussed possibilities in 2020-2025 for the Tribal Forest Protection Act, and or 638 contracting as well as funding and potential contract NEPA encompassing a large area of analysis including Rimrock, upper Ahtanum and lower Tieton.  The project is awaiting funding BIA, intertribal commitment and identification of a program manager, and project partners hope to know more this Spring/Summer. The group also discussed Yakama Nation timber priorities and needs for FY20. One identified need was to revitalize the work plan and to ensure leaving area for jobs (based on location, timber types, etc.). Partners are also working to document delineating log sale potential and associated products with timber/location.   
Oak Creek Restoration Project
Oak Creek Restoration Project updates began with a background discussion of historic conflict over clean air policy between local, state and federal agencies and prescribed burning on Forest Service land. Conflict severely limited prescribed burning in Yakima County, thus limiting entities to mechanical treatments and pile burning. The conflict was resolved over time with engagement of Tapash partners. WDFW has over 200 acres prescribed burning on WDFW lands planned, and will work toward implementation when conditions allow. WDFW is working toward additional RCO State Lands Restoration grant and looking at opportunities for cross-boundary burn to include USFS Elderberry project area. The group discussed the initiation of the Oak Creek Project back in 2010 and the goal to continue partnerships within the checkerboard ownership –potentially pursuing the use of Good Neighbor Authority (GNA) with Okanagan Wenatchee/Naches RD to use federal funds to contract resource allocations and accomplish prescribed burning treatments across FS to meet both landowner objectives. The discussion of GNA is still in the idea-stage, with potential points of contact being identified by the group and is currently available for Gifford Pinchot, and will soon for Okanogan Wenatchee. There were also group updates from the DFW South Central burn team lead, Drew Delozier, outlining the team (including supervisor, foreman and 4 team members) prepping prescribed burns across the region (including Blue Mountains, LT Murray and Oak Creek), as well as the DNR 3-person Fuels Management crew focusing on roads, thinning, chipping and helping to protect private property on adjacent lands
Little Naches Restoration Project
Members of the Little Naches Working Group gave an overview of the 100,000 acre Little Naches Watershed, which was divided due to spotted owl requirements, with the lower 50,000 acres encompassing the "Little Crow" project, with 3 other projects to come from Little Crow. The signed decision for the Little Crow EA is planned for the first quarter of Federal FY20 and the FS in looking to resolve 2 injunctions. The Huckleberry project is complete and resulted in 20 million board feet harvested and $2.3 million in retained receipts. The group also discussed the Finn Stewardship sale located in Quartz Creek Drainage, culvert upgrades on-track for completion on Fawn Creek and Sand Creek, the NEPA on-track (working with Yakama Nation and FS tree/bull trout habitat on permits and funding) for Lower Longmire levee removal, and Human Ecology Mapping data collected for the Little Naches, with final data analysis and funding resources being identified. 

For more information, please visit the (Link) to our Winter Quarter Stakeholder Meeting Full Notes
Special thanks to Laura Potash for her dedicated coordination and well-wishes for her next adventures!