Our Work
The Tapash Sustainable Forest Collaborative works to improve the ecosystem health and natural functions of the landscape through active restoration projects backed by best science, community engagement, and adaptive management.

–

Tapash seeks to create resilient forest ecosystems managed across ownership boundaries in central Washington, and to build community connections in order to achieve healthy fish and wildlife populations, minimize the effects of catastrophic fire, retain cultural values, provide desirable forested areas for present and future generations,and support development of a sustainable restoration economy.

Tapash Strategic Plan January 2020
How We Work
Prescribed Fire
photo by John Marshall
A dry ponderosa forest is underburned by a forest health technician using a drip torch. Tapash supports underburning to reduce brush and woody debris that can feed high-intensity wildland fires that can threaten watersheds and communities alike.
Forest Health
photo by Hannah Letinich
Ryan Haugo, TNC Forest Ecologist, leads a field based workshop near Cle Elum, WA to discuss forest health. Tapash supports cross-boundary forest restoration projects that use active forest management informed by best available science to create resilient healthy forests.
Aquatic Restoration
photo by TNC
Logs are carefully placed in a stream largely devoid of woody material to restore floodplain connections and improve habit. Tapash supports aquatic restoration for the benefit of fish, agriculture, business and wildlife that all rely on healthy streams.

Where We Work
The collaborative works in the forest portion of the Central Cascades of Washington State (Kittitas and Yakima Counties). These rugged hills and canyons support some of the few remaining mature groves of ponderosa pine in the state and provide habitat for the declining white-headed woodpecker, golden eagles, Rocky Mountain elk and mountain lions. These ponderosa pine ecosystems, including forests, riparian areas and suites of dependent fauna, have changed dramatically in ecological character over the last century due to land conversion, fire suppression, and climate change.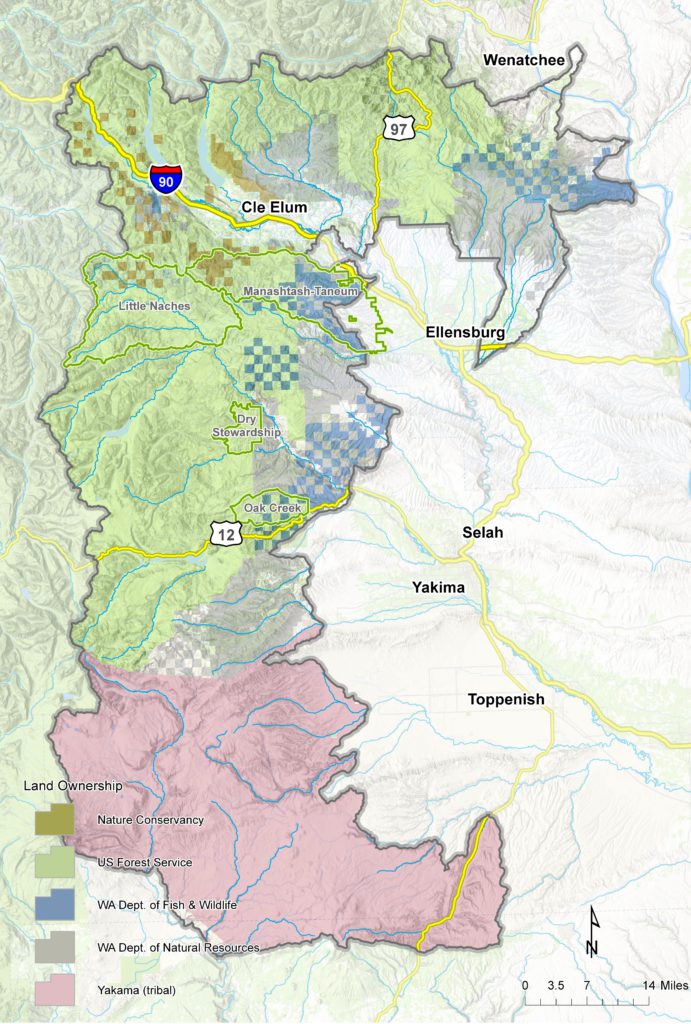 Who We Are
The Tapash Sustainable Forest Collaborative is comprised of decision-makers from the Yakama Nation, The Nature Conservancy, USDA Forest Service, Washington Department of Fish and Wildlife, and Washington State Department of Natural Resources.
Honoring First Peoples
Our Collaborative is named in honor of the first people within this landscape.
Táp'ash (noun) – According to the Sahaptin Dictionary, Táp'ash (Tapash) means pine tree in Sahaptin.
Sahpatin is a Plateau Penutian language spoken in south-central Washington and northern Oregon.
Imítichnik táp'ashyaw ánichatak. – Go bury it under the pine tree.