A coordinated movement to increase community resiliency to wildfire by providing education, planning and technical assistance for implementing activities with the people that live, work and recreate in Kittitas County

Fire Adapted Communities adapt to the unique needs of the local community. KFACC strives for Coalition membership that represents all parts of the community: residents, businesses, policy-makers, land managers, non-profits and emergency responders, as well as local, state and federal agencies. KFACC has elected members that serve as leadership for the group and receives support from local organizations to continue serving the mission of fire adapted and community resiliency.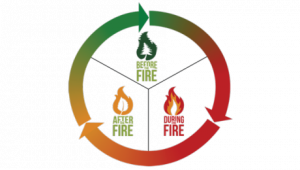 All of Kittitas County, community members, public land managers and other stakeholders share the wildfire risk. KFACC acknowledges the risk and is the local grassroots movement to live proactively with wildfire: before, during and after.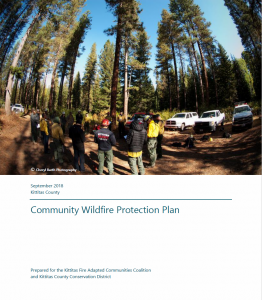 Like other recent fires, the Jolly Mountain Fire in the summer of 2017 brought home the true nature of our landscape in Kittitas County. We are a fire environment, as is the entire east slopes of the Cascade Mountains. Fire is a natural part of the ecosystem and something that can and does occur on a regular basis. Landowners and homeowners who live in this environment should be aware of the risks, understand how to lessen their risks to become more resilient, and learn about resources available to them.
Many people see the large flame fronts on the news and figure that's what burned the homes. However, most homes are not destroyed by these huge walls of flames, but by the little embers. Wildfire embers can travel over a mile and you can control what happens when they land by employing effective defensible space. Building effective defensible space is not only the most effective action you can do on your property, but also provides additional safety to the first response crews during an emergency.
We can do such a good job "cleaning up" the forest that we inadvertently reduce ecosystem function. The good news is that we don't have to choose one or the other. We don't have to sacrifice all wildlife habitat for the sake of fuels reduction, or vice versa. The objectives of reducing the risk of stand replacing, or highly destructive fire, while maintaining and enhancing wildlife habitat values are compatible with the implementation of a few simple techniques as a part of Fuels Reduction prescriptions. *This is intended for outside of defensible space *
Resources for Landowners
Everyone has a role!