Okanogan-Wenatchee National Forest

The forest encompasses more than 4-million acres in Washington state. Forest resources provide significant public benefits in water, forage, wildlife, habitat, wood, recreation, and minerals. While these resources are managed under the multiple use concept to provide the public with a wide variety of benefits, an important emphasis of that management is to maintain and enhance sustainable ecosystems for future generations.
Yakama Nation

Located in south central Washington, a United States Indian reservation of the federally recognized tribe, the Confederated Tribes and Bands of the Yakama Nation. The tribe is made up of Klikitat, Palus, Wallawalla, Wanapam, Wenatchi, Wishram, and Yakama people. The reservation covers 2,185.94 square miles (5,661.56 km²).
The Nature Conservancy

The mission of The Nature Conservancy is to preserve plants, animals and natural communities that represent the diversity of life on Earth by protecting the lands and waters they need to survive. We are dedicated to preserving biological diversity, and our values compel us to find ways to ensure that human activities can be conducted harmoniously with the preservation of natural diversity.
Washington State Department of Natural Resources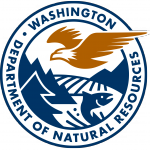 DNR protects and manages 5.6 million acres of state-owned land that you, the people of Washington, own. Much of this land (3 million acres) is state trust land that provides revenue to help pay for construction of public schools, universities, and other state institutions, and funds services in many counties. We also manage these lands to provide fish and wildlife habitat, clean water, and public access for you.
Washington Department of Fish and Wildlife
The Washington Department of Fish and Wildlife (WDFW) serves Washington's citizens by protecting, restoring and enhancing fish and wildlife and their habitats, while providing sustainable and wildlife-related recreational and commercial opportunities.